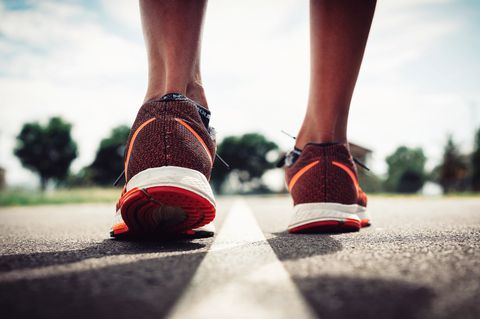 13 Jan

Best Running Shoes For Flat Feet

If you are a runner with over-pronation issues, buying shoes specifically designed to address this condition and help you manage your foot form is a must. Over-pronation (of flat feet) will be painful if not correctly and proactively treated.
Understanding What Flat Feet Means
This condition is also known as 'fallen arches' and is present when there is no arch or a very low arch in the foot. Flat feet is very visible when doing a 'water test', as the foot will roll to the inner side, the mark of the arch left in the ground after stepping with a wet foot is almost non-existent.
"A water test is a very quick way to diagnose a flat fee"
In many instances flat feet can be mild (when the arch will raise off the ground slightly), or severe (when it will not raise off the ground at all). In these cases, pronation and overpronation is present.
Causes and Symptoms
The most common cause will be genetic factor, but other factors also contribute to the worsening of this condition:
Weakened arches (age)
Injury in the foot or ankle
Arthritis
Damage in the tibial tendon
Obesity and diabetes
Other muscle disorders causing muscle dystrophy
Pregnancy (temporary flat fee)
Since arches help distribute body weight, in many cases flat fee will lead to symptoms including pains or disorders in other parts of the body, including:
Pain in the feet (strained muscles and ligaments)
Pain in ankle
Pain in calf
Pain in knee and hip
Pain in lower back
Yes, if you have flat feet and you experience pain in other parts of your body like the above, the cause could reside in your feet.
Exercises can help alleviate pain. A physical Therapist can recommend exercises such as Heel Cord Stretching, The Golf Ball Roll, and others.
Treatment can include the use of well fitted shoes (more specifically the ones providing more than regular arch support), fitted insoles, use of an ankle brace (helps with inflammation), diet (yes, weight helps), or any custom designed arch support.
If this condition is not treated appropriately, some of the most common complications can include: Achilles tendinitis, arthritis (ankle and foot), hammertoes, plantar fasciitis, posterior tibial tendinitis, pain in ankles, knees, and hips.
Selecting the Best Running Shoes for Flat Feet
As you saw above, flat feet can become a painful experience. If you are a runner, your shoes can make all the difference. Choosing the right shoes can be the line between enjoying the ride, or not.
Again, flat feet will come with painful consequences if not treated well, and especially when running. Your shoe selection should be based solely on this condition, and not based on brand and style alone. Shoes are constantly improving to provide the latest in technology when it comes to support, cushion, etc, so don't be afraid to read reviews and try new and improved brands offering the latest material and support innovations.
If you have flat feet, when searching for shoes your focus should be on:
Stability shoes are ideal for mild pronation (mildly fallen arches providing extended support for arch as a main goal).
Motion control shoes for people with overpronation (or severely fallen arches) as they will restrict improper movement when running through stronger arch support and stiff heel.
Best Running Shoes for Men and Women with Flat Feet
Your condition and body usage will determine what shoe works best for you. This means, do not try only one brand of shoes. Try more than one stability or motion control shoes, this will help identify what works best for you. Every foot and body is different, so a brand/type that can work for someone with pronation issues, can work (or not) for you.
This is our pick on the best Stability Shoes:
Motion Control Shoes might be heavier than average shoes, but for the overpronator it is a necessity since it helps prevent your feet from rolling.
You might want to take a look to these Motion Control Shoes:
Brooks Beast 16. This shoe is rated one of the highest among overpronators offering strong arch support and cushioning. This one is a versatile shoe good for pavement, indoor, and even trails. Although a little heavy, the Brooks Beast 16 is a very strong, comfortable and flexible shoe. This one deserves one of our top-rated spots for Motion Control Shoes.
Asics Gel Fortitude. A mobility control shoe without the bulky appearance of the rest in its category. With breathable material on top, it brings Asics' proprietary GEL cushioning in back and front, plus its SpEVA foam platform. This means, superior cushioning. Its Guidance Trusstic system ensures mobility stability. Not meant for long distances (as the rest in its category).
Asics GEL Foundation. You can't go wrong with Asics. Lots of additions in the upper, inside, and underfoot, make this shoe a very complete shoe in the line-up for overpronators. The upper is breathable lightweight material including ventilated sections. Inside, the ComfortDry sockliner provides moisture wicking and odor control properties. And the underfoot incudes all that Asics can offer; its SpEVA foam platform, its Guidance Trusstic system, Dynamic DuoMax Support, and its well known GEL System. All in this shoe.
Saucony Omni. A shoe with lots of support and plenty of cushioning. Although at the high end in price, this is a shoe that won't let you down and will make any over-pronator enjoy each run.
Brooks Beast. A heavy shoe but a top choice for motion control. It is a well-engineered cushioned shoe that comes with superior support, flexible enough to fit orthodontics or wider feet into the shoe. With a firm, multi-density midsole and a cushioned heel that keeps the shoe comfortable. A very durable and a great choice for the runner needing maximum support.
Remember: Test, test, test
You would be amazed how much a foot can change. It is key to re-measure your feet every so often to make sure you understand if the arch has suffered further changes. This can drive to try other shoes and models offering a tighter arch support, for example. ​
Next Steps to Take
We hope this material covering the best running shoes for flat feet has been beneficial to you. Our reviews and observations are meant to give you a guide so you understand the condition and what the options are if you are a runner. Review and test shoes based on your observations and what your body tells you. Once you adapt your running shoes to your body needs, you will be surprised the benefits it will bear. Remember: Enjoy the ride, or not.
Thank for reading!
Running Essentials