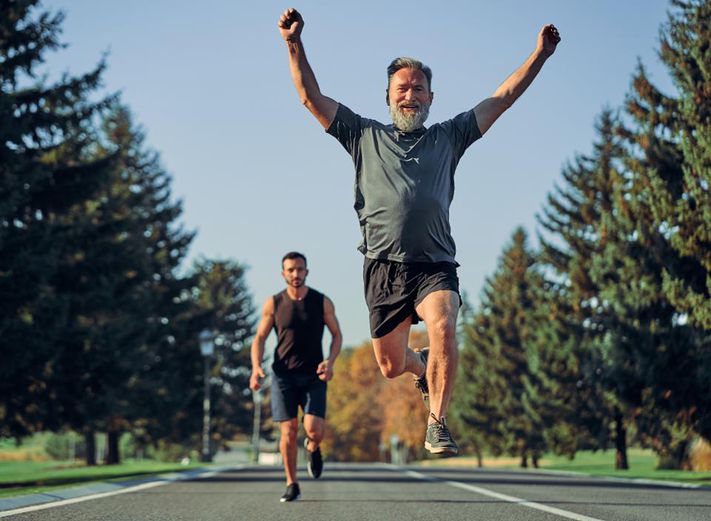 04 Aug

How To Start Running After Age 50

You have decided to give running a try -and you are over age 50.

First of all: congratulations! This is exciting, and you should be proud of yourself.

When improving your health and fitness is the goal, it's never too late to start.

But while entering the idea of running in the first place, being over 50 needs special considerations. Your current health status needs to be in check and the type of running and training you are planning to undertake needs to be well planned.

You're never too old to start a running routine, but you need to make sure to cover some basics and understand how being over 50 impacts the ability of your body to work and recover.

These are our best suggestions on how to start running after age 50:
1. Understand what being over 50 means
First of all, and before you start a running program, it is important to understand some of the basic physical effects of aging. Aging brings lots of changes, but the good news is, we can do something about it.
For example, your joints will start to feel more decaying these days, and this could be a sign of osteoarthritis which is a normal process of aging. Your cartilage will wear down more rapidly over time.
Muscle mass loss will naturally occur and will be unavoidable for all adults (it can actually begin at 30s for some people but this can be slowed through exercise).
With aging, every injury becomes a big deal too. Injuries and pulled muscles aren't easy to get over and as fast as before. Due to complex changes of processes in the body, it takes more time to heal muscle wounds.
Your cells are aging too, and hormones are in turmoil, especially in middle age.
These are some examples of what your body goes through with aging, among other things.
But sit tight, running after 50 can be done in a way that you will not only be able to control all of the above, but you can actually start harnessing the benefits of the sport!
2. Get a physical done
This is step number one and a smart way to start off your new journey. You need full clearance of any condition that might exist, and you are not aware of. This is a must if you are over age 50.
You might also want to discuss with your physician what your plans are with regards to running. This way he or she will better give you direction as to any health advice for consideration.
This should be your green light for the rest.
3. Gear up
Now that you're off to the new journey, you need to gear up properly. And we don't mean fancy tech accessories (no, we're not pros), but the running essentials that are definitely needed.
Make sure to line up a new pair of running shoes with a great deal of cushion according to your foot form.
A good way to accomplish this is by getting your shoe fit and form from your local store. Are you a pronator or flat feet runner? This is important to understand so your shoes give you the support right where you need it.
This can avoid injuries down the road.
TIP: If possible, add the extra cushion to your shoes. These Sof Sole insoles will add an extra layer of cushion that will exponentially lower the impact in joints.
PRO TIP: Buy your shoes half to a size above your regular size. This way natural foot swelling plus insoles do not cause too much compression on the foot when running. Your feet will appreciate the extra room.
The Adidas Ultraboost is a shoe that provides perhaps the best cushion out there (but this is just our opinion). This shoe also provides a snug fit and superior comfort for any beginner.
Comfortable clothing should also make part of the check list.
You might want to check these Asics Cool 2-in-1 Shorts. Amazingly comfortable.
These Asics Cooling Seamless Capri are also built for absolute comfort and style.
Don't forget your Sof Sole Insoles in your shoes for added cushioning (and further protect your joints).
4. Prepare your muscles
In other words, strength training. After a long period of inactivity, and before starting a running routine, it is actually a very good idea to prime your muscles for the new demands.
Aging will naturally make your body lose muscle mass. Strength training will not only provide your muscles with the right foundation for running, but it can also help you avoid injuries and better support your joints.
Remember, you want to start this new journey in the best way possible and injury free.
This can be easily done and accomplished. No need to panic.
A static bicycle is a great and easy way to tackle this. And other basic exercises too.
The Marcy Recumbent Exercise Bike is all you need at home. This quick and easy to assemble bike is absolutely great for home use and will help you tone up your quads in no time.
Strength training is a must for people over 50.
Low impact exercises such as isometrics will help too. You might want to check these easy-to-follow isometric routines.
Other types of moderate to advanced strength training can be incorporated in subsequent phases down the road. But take it step by step. Muscle toning with a static bike and isometrics are a good way to start.
5. Progress slowly
Running and being over 50 needs adaptation, very slow and progressively. Your body is going through new stuff, and it will naturally respond to it, but you need to be careful not to load too much too fast.
Our best recommendation is to start very slow. This will educate your body minimizing the risk of injuries.
A good way to progress is:
Month 1 – Prep up
Week 1 – daily static bicycle (mild 15-20 minutes). This is a good way to start off.
Week 2 – daily jogs (20-25 minutes). You can do 5 minutes static bicycle before the jog. Rest one day of the week.
Week 3 – daily jogs (30 minutes) with interval of easy runs (1 minute run every 5 minutes of jogging). One day of strength training during the week or do 5 minutes static bicycle before the jog.
Week 4 – daily jogs (30 minutes) with interval of easy runs (2 minute run every 5 minutes of jogging). One day of strength training during the week or do 5 minutes static bicycle before the jog.
Month 2 – Running 
Week 5 – daily easy runs (30 minutes) with interval jog (2 minute jog every 5 minutes of running). One day of strength training during the week or do 5 minutes static bicycle before the jog.
Week 6 – daily easy runs (30 minutes) with interval jog (1 minute jog every 5 minutes of running). One day of strength training during the week or do 5 minutes static bicycle before the jog.
Week 7 – You should be able to do continuous 30 minute easy runs (but If feeling so you can do 1 minute jogging interval for every 5 minutes of running). One day of strength training during the week or do 5 minutes static bicycle before the run.
6. Help your body
Injury prevention is key on this process. After 50, your body is more prone than ever to pick up an injury in case of a bad move or any excess. This means, you need to help your body where and when you can.
Remember: Your body is priority in order to sustain the new demands. The more it stays healthy the more enjoyable your runs will be.
Injuries will drive downtime that can end up alienating your motivational drive.
Some of the things that will naturally occur after age 50 is arthritis. This is when your cartilage will start to wear down rapidly.
Supplements such Joint Movement Glucosamine can help aging joints stay in the game. This is a liquid presentation with more than 90% absorption (vs less than 10% absorption of pills). And contains three key essential compounds for the health of our knees: Glucosamine, MSM, and Hyaluronic acid.
Did we mention that liquid presentation is absorbed 10x faster and more efficient than pills? Oh yes, we did.
Collagen is another key component in our soft tissue. As we age, our bodies will start producing this protein in lower quantities and collagen breakdown will start to kick in. This is a key protein responsible for the elasticity of our joints, ligaments, and tendons. Collagen is a very important supplement to consider after age 50.
Multi-Collagen Peptides is a great product providing 9g of collagen per serving. It is grass-fed and non GMO.
Inflammation is also a critical factor to control after age 50 as it can be the root cause of many death causing diseases. You can incorporate natural anti-inflammatories to your daily diet such as ginger, turmeric, bromelain.
One product we've found particularly effective is the Boswellia Serrata. A natural product that has been found to have excellent anti-inflammatory response.
7. Recover properly
At this stage of your life your body needs the proper recovery after any workout. The faster you recover, the better your next run will be.
Tackling recovery proactively is the best way to think about this process since your body will not naturally respond as it used to do when you were in your 20s and 30s with regards to speed of healing.
You need to help your body recover properly and rapidly. Recovery is key.
Any runner should include protein intake in their diet, but runners over 50 should pay special attention to this. As mentioned before, individuals over 50 will experience a more rapid muscle mass loss, and protein is the substance to help in this front. Protein is a vital substance that helps build and repair body tissue (bones, muscles, cartilage, skin)
Some of the best natural sources of protein include: Grass-feed beef, organic chicken, wild caught salmon, and eggs. You should consume protein throughout the day, but after workout should be emphasized.
Supplementing protein can be also beneficial (check with your physician first though). If you are not getting enough protein in your daily diet, boosting your protein intake after your runs so your muscles get what they need and recover faster can be a good idea.
The WHEY Protein X-Protein Graham Cracker Ultra Premium is a delicious protein shake packed with the highest quality ingredients for the best recovery after your runs (did we mention how delicious it is? Oh yes, we did).
Swelling might also occur naturally for people over 50, and if this becomes an issue when running, you can tackle it proactively.
Remember, your body will not produce a natural and quick response to swelling as it used to do in the past.
The FIT KING Foot and Leg Massager is a product that helps tackle swelling in the spot. Targets thigh, calves and foot with 10 different massage modalities. This equipment is great for speeding up your recovery after workouts.
8. Stay flexible
Muscle elasticity will tend to decrease with aging, impacting your muscle ROM (range of motion). Flexible muscles and joints will get a wider ROM allowing them to perform better and stronger. On the other side, a tight muscle is a ticket to injury.
Maintaining proper muscle elasticity is critical for runners of all ages, but most importantly, for runners in their 40s and 50s.
You can do mild warm ups before your runs, and then proceed to mild stretching (active stretching). Additionally, a mild post run stretching is also recommended.
This way you add a good elasticity routine to your workout.
You might want to take a look at these Stretch Straps And Exercise Guide
9. Adjust your nutrition
As mentioned before, protein should be key in your nutrition approach in order to support your muscle recovery. Besides protein, the rest of your macronutrients have to be well balanced too: Carbs and fat.
Some natural sources of protein to consider should be: Grass-feed beef, organic chicken, wild caught salmon, eggs, low fat yogurt.
In addition to this, healthy fats should be contemplated: Avocados, Nuts, Olive Oil, peanuts, wild caught salmon.
The right mix of exercise and good nutrition will maximize your results.
On the carb side, it is recommended that regular carbs are substituted by unrefined carbs such as vegetables, whole fruit, legumes, potatoes, whole grains, and whole grain pasta. You should avoid Sugar-sweetened beverages, processed fruit juice, pastries, white bread, white pasta, and white rice.
Also, antioxidant foods such strawberries, blueberries, blackberries, raspberries, beans, kale, and artichoke are highly recommended in order to fight free radicals in your body. Aging cells need this.
10. Practice Yoga
Last but not least: Yoga. This discipline can really make a difference on people over 50 from many different angles, not only physically but mentally too. Some of the most notable benefits of yoga are:
Can help increased flexibility.
Can help increase muscle strength and tone.
Can help improve respiration, energy and vitality.
Can help maintain a balanced metabolism.
Can help accelerate weight loss.
Can help with cardio and circulatory health.
Can help improve athletic performance.
Can help protect from injury.
Runnning Essentials