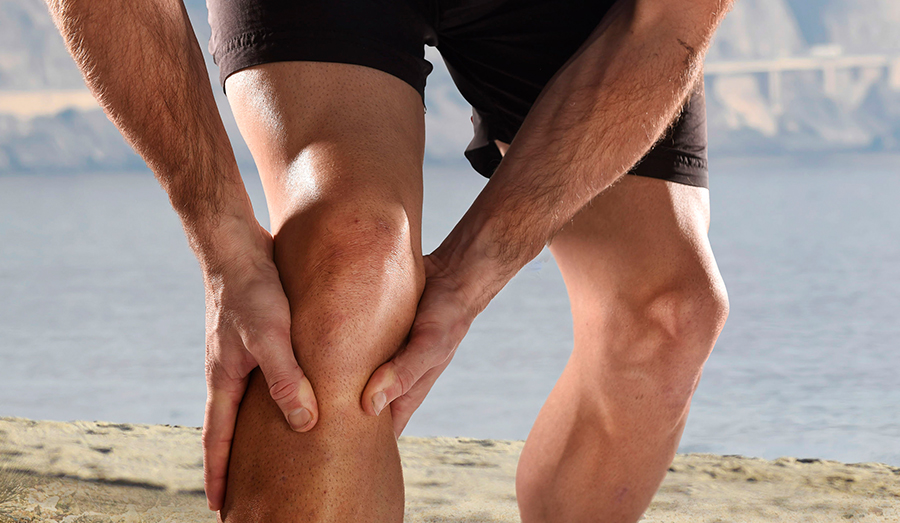 13 Apr

5 Small Changes That Will Reduce Your Knee Pain Quickly And Effectively

As we noted in our previous post How to reduce knee pain on aging joints, knee pain can have many sources resulting in different pain points and sensations, being some of the most common:
Patellofemoral syndrome
Chondromalacia
Osteoarthritis
Meniscal tear
Depending on the issue and its severity, there are many treatments that will take different levels and time.
But did you know that regardless of the condition, there are 'quick wins' that you can take to help improve your overall level of comfort for your daily functioning? These small changes are not meant at pointing to a specific condition but to help the overall well-being of the knee. And the best, these are simple everyday habits easy to follow with quick benefits:
     1. Increase shoe cushioning
Although considered a very low impact exercise, the simple fact of walking has some impact on your knees. But hey, no panic, walking is highly recommended, and it can have tremendous benefits. But including additional cushioning in your everyday shoes will help release even more pressure from your knees. This won't hurt after all.
These Sof Sole Insoles are perfect for what is needed. Their foam composition is super comfortable and adapts perfectly to your foot. They can be cut to fit, so no worries about getting the wrong size.
Did you know that running will have 4 to 7 times the impact on your knees vs walking? If you are a runner, extra cushioned insoles are a must. Besides your highly cushioned shoes, put the extra cushion with highly cushioned insoles.
     2. Quick low impact exercises
Keeping those muscles around your knee toned enough will help tremendously, and having a low impact routine that can be done on a daily basis (and quickly) will be highly beneficial. If time is a constraint, and the bicycle and/or the gym is no option, you can quickly follow a low impact routine at home to help you keep your muscles in check. These are some exercises that can be done at the comfort of your home in less than 15 minutes:
Isometrics. Use these ankle weights and laying in your bed do leg raises front and lateral. This is a no impact exercise that helps maintain your muscles activated. You can do 20 reps x 4 times
Static Bicycle. This Marcy Recumbent Exercise Bike works wonders as it can fit in house smoothly. It is low cost and super easy to assemble, and what this can add to your overall strength routine is priceless. I would say this is maybe the most important piece of equipment to have at home to achieve and maintain muscle tone where it needs to be.
Static squats. Stay in 'ski' position (no movement up/down) for about 30 seconds, repeat 3 times. This exercise is low impact helping activate your quads, glutes, and hamstring.
Low angle squats. Do the squatting movement only to reach down 45 degrees. The fact that you don't reach completely to bottom position does not exercise full pressure in your knee and does not exhaust your legs (hamstrings and glutes) in a way that you can do it everyday. Do 20 reps x 3 times. This keeps your vastus medialis well activated (very important muscle to keep your kneecap aligned)
     3. Avoid sitting down the whole day
Long sitting causes and exacerbates knee pain. When your knees are bent the pressure in the kneecap is greater and friction is amplified. This additional grinding will worsen any pain you might have in your knees. Try standing up every 30 minutes and take short walks around. When sitting down, try stretching your leg and keep it so for some minutes. DO NOT stay in sitting position with your knees bent for mre than 30 continuous minutes.
Read more on 5 very bad things that happen when you sit down the whole day
     4. Anti-inflammatories the natural way
We have all succumbed at any point to easing pain through NSAIDs pills. Advil anyone? Maybe this has become an almost daily habit to stay pain free?. Did you know that NSAIDs can cause long term side effects such as stomach ulcers, liver or kidney problems, high blood pressure, and others.
If you think that taking those Advil pills was safe, think again.
There are products full of anti-inflammatory properties such as Bromelain, Turmeric, but Boswellia Serrata is our top pick. Boswellia effectively helps reduce inflammation processes the natural way. They are safe to take and you can include them in your daily diet, or as needed. Besides helping reduce inflammation they can help with digestion, arthritis, asthma, added antioxidants, brain function, heart health.
     5. Joint Supplements
Glucosamine, MSM, Hyaluronic acid, and collagen are four critical components naturally produced by your body that help keep the health of your soft tissue, and more specifically, your joints. As we age, the body reduces its ability to produce these compounds which ends up weakening your joints, tendons, cartilage, muscles, bones, and skin. If so, why not help our body with providing the extra amount of these four critical compounds needed to keep our joints healthy (specially knees)?
Glucosamine, MSM and Hyaluronic are naturally occurring substances in the fluids around the joint that support the health of our cartilage, tendons, and ligaments.
Collagen is a type of protein found in connective tissue acting as key building block of bones, cartilage, tendons, ligaments, and skin. For example, the Elastine contained in Collagen helps your joints and skin stay flexible and hydrated.
If you suffer from knee pain due to aging joints, please know that there is THERE IS NO MAGIC PILL containing all four substances. You don't need just one of them, you need ALL of them. One single pill of Glucosamine a day will not get you anywhere: you need all four compounds.
The winning combination:
Joint Movement Glucosamine  +  Multi-Collagen Collagen Powder
Joint Movement Glucosamine (containing Glucosamine, MSM, and Hyaluronic Acid) plus Multi Collagen will provide you with these four critical compounds. This a super effective and quick acting combination.
***Note that Glucosamine Joint Movement is a liquid presentation which is ultra effective and fast acting, contrary to Glucosamine in pills which does not come close to the fast acting effect of the liquid presentation. Glucosamine Joint Movement is by far the best liquid formula for joint relief.
Taking glucosamine (+MSM +HA) in addition to collagen will help tremendously in keeping your soft tissue (cartilage, tendons, ligaments) healthy and provide a boost of comfort to your joints.
Multi-Collagen Collagen Powder is a great option for Collagen peptides hydrolyzed (containing type II). Any of the brands below in addition to Glucosamine Joint Movement works perfectly (although our top pick is the Multi-Collagen):
     6. BONUS (Additional Relief)
There are other simple steps that will also help in providing additional relief:
Anti-inflammatory cream. Not any cream will help. There are hundreds of options but only a few will provide the real relief you need. Some ingredients are more effective than others. HEMP GENIUS is a powerful creme that provides exceptional results. Its formula contains Hemp Extract, MSM, Aloe Vera, Boswellia Serrata, and Arnica Montana. These are powerful ingredients proven to be highly effective in providing relief on soreness and inflammation. HEMP GENIUS is exceptionally good.
HOW TO USE IT? Right before going to sleep, apply a good amount on and around your knee (yes, mild massage helps too) and rub it until it slightly disappears.
Warm Bathtub with Epsom Salt:  A warm bathtub with Epsom salt will relax tight tendons and muscles and will also promote circulation, aiding with inflammation and faster healing. You can do this once a week. Dr Teals is the best choice.
Was this helpful? We really hope this reading was of benefit for you. In case you want to drop a comment please do so, we'd love to hear from you!
**Note that by reading this article you agree that the above does not represent any medical advice intended to cure or heal any medical condition. Anything you decide to take or not based on the information above is at your discretion and your own risk.