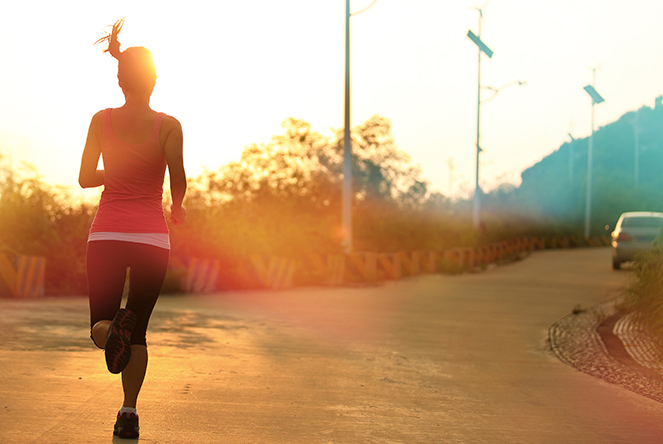 02 Mar

7 Ways To Become A Morning Runner

It's 5:30am and the alarm is on. No matter how many years of running you have, the sensation of that machine wanting to wake you up is still unpleasant.

Yes, getting that body up and out of bed seems like a mission, every time.

Well, reality is that this is something that most runners don't enjoy. But how to overcome the morning fuzz and embrace your early runs? This is the ultimate guide to help you become a morning runner and enjoy it.
1. Sleep early
This seems obvious, but this is rule #1. If you get a minimum of 8-9 hours of quality sleep, your body should have no excuse to wake up at 5.30am fully energized. If you get that sleep, your chances of waking up early and wanting to hit the road are potentially bigger than when not getting a good sleep. If this is so obvious, start by doing this: get to bed early, relaxed, and get a minimum of 8-9 hours of quality sleep. Your brain and body won't oppose the idea of hitting the road.
2. Get pre-packed
Are you waking up just to lose 15 minutes in finding your socks, your running shoes, and the rest of your gear? This is a quick win: get all those things organized the night before, and right next to bed. You prep routine should take only a few minutes, and guess what, you could gain some minutes of sleep too. There is no reason to waste time in the morning, so save the frustration and get pre-packed the night before. This routine will make you feel more efficient and will help your motivation too.
3. Get the mindset
Yes, waking up early is no pleasant thing, but we all know how good it feels after the run. So, every time your mind plays you, just think about the after run reward. You know that morning runs are the best thing of the day, they will make you kick off the day as a champion, will keep your energy levels up and get you going for the rest of the day. Some studies even suggest that morning exercises increases neurotransmitters and growth factors in your brain, and reduces stress levels. Just think about the rewards, this can get you going faster.
4. A quick pre-run fuel
Sometimes a low level of energy because of insufficient fuel can also be a trigger to think of those morning runs as an non pleasant experience. Before that morning run, it would be good to quickly fuel with a quick carb, or healthy fat rich food so you can support your energy levels in your run. You can try a bagel with peanut butter for a tasty and quick pre-run food. Peanut butter provides a good amount of monounsaturated fat so you can load the glycogen much needed for energy production. Oatmeal and banana can also be a quick good pre-run fuel. Remember, fuel up and get your body what it needs before the run.
 5. Enjoying the ride
Running groups can be a motivating factor. If you can join a running group, it will certainly provide you that extra push of human interaction, healthy competitiveness, and performance benchmark that can make you feel more motivated to go out every morning. If you are a solo runner (some people function better as solo runners), some other things such as music can help you enjoy the ride too. Some studies suggest that music can boost brain activity so you can feel more motivated. Such studies also suggest that music allows the brain to impose longer ranges of physical activity to your body before it sets 'psychological' limits as opposed to when there is no 'motivating' factor and the brain 'shuts down' more rapidly.
6. Try new routes
Sometimes the simple fact of varying the route can help your brain not find that boring reason to go out again. Try varying the route and keep things fresh so the new landscape can help you boost your motivational level too.
7. Take a REST day and recharge
You don't need to impose a restless punishing routine of going out every morning. This is supposed to be an enjoyable moment…So, enjoy the ride. If feeling like not going out that morning, allow yourself a day to break the rule. It is ok. As long as you commit and understand that you are allowed a day off, it is ok. Don't fall though into the temptation every day. Remember is just a day off, not five.